What to Expect at your First Visit
Your child's first dental visit in our office will include a review of their medical and dental history and a thorough dental exam. The dental exam will be an evaluation of the teeth and gums, a head and neck exam, and a preliminary orthodontic evaluation. Your child may also receive a cleaning and fluoride treatment at the first visit. Our dentists may prescribe digital x-rays to develop a diagnosis and treatment plan and will discuss these findings with you at the end of the appointment.
Parents are welcome to accompany their child for their visit; however, we find by age 3 most children like to come back to the clinic by themselves and enjoy their independence. We encourage this, as we continue to develop a relationship with your child.  We spend time talking with them and showing them photos of cavities, plaque, dental floss and healthy teeth.  We also teach them how to brush with adult supervision at our child-size brushing stations.  You will be given a tour of the office following your child's first appointment, prior to visiting with your dentist.
Age 1 Dental Visit
The American Academy of Pediatrics, American Academy of Pediatric Dentistry, and American Dental Association recommend children have their first dental visit when the first tooth comes in, usually between six and twelve months of age.
Establishing a dental home by age one prevents decay because of early education and preventative care. In addition, you can anticipate what to expect in your child's dental development.  In the same way you establish a medical home with your child's physician for their well-child visits, you should have a dental home established to prevent decay and handle any dental emergencies.
4 tips on kids' Dental Exam
Tips for a Positive Dental Experience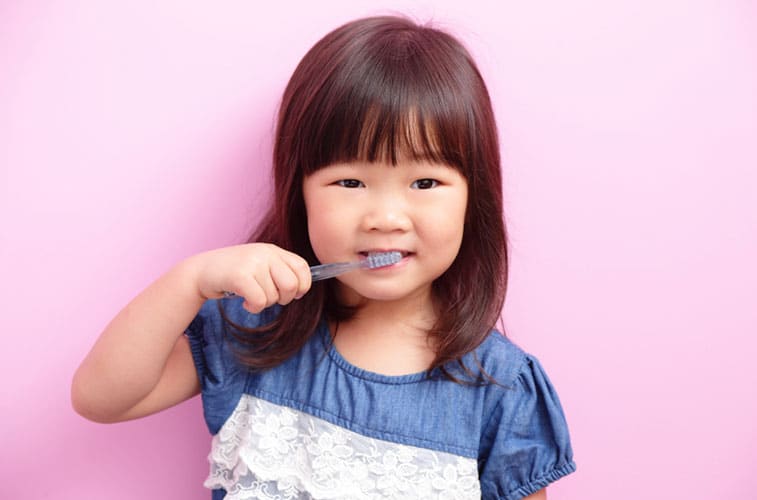 Our pediatric dentists and our team have special training to help anxious children feel secure during their dental appointments.
Calming the anxious child
Our pediatric dental office is designed for kids, and our team members choose to work in our pediatric dental practice because they enjoy working with kids. We often describe the atmosphere in our office as similar to a kindergarten setting, we are like kindergarten teachers who educate and happen to work on teeth.
We often use a method called "Tell-Show-Do". This method allows the child to see beforehand exactly what will be done during an appointment. Coaching, using distraction techniques, modeling with another patient, and praising the child are other management styles. You can make each dental visit enjoyable and positive by refraining from using words that cause unnecessary fear, such as "needle/shot, pull, drill, or hurt". These can be replaced by more friendly terms such as "California Cooler, wiggle, Mr. Bumpy, and sleepy". If you want to talk to your child about their dental visit then please let us help you with the terms you use, so that we can all be consistent with what is said.
Children with Special Healthcare Needs
Our pediatric dentists have specialized education that help us design specific care for your child's needs.
We schedule specific dates and times in our office so that our team will have adequate time with your child to establish a relationship. Children with special healthcare needs are often more susceptible to tooth decay and periodontal/gum disease so regularly scheduled visits are critical in preventing problems.
In order to tolerate dental care and become familiar with our office, it is extremely important to start at age one and have regularly scheduled continuing care exams.